Secure End-User Access & Protect Against Data Security Breaches
My1Login's Enterprise Password Manager ensures high-value accounts are protected.
Permission-Based Sharing

Automatic Secure Password Generation and Updating

SSO Without Revealing Credentials

Password Policy Enforcement

Audited Access of Privileged Accounts

Canned and Custom Reports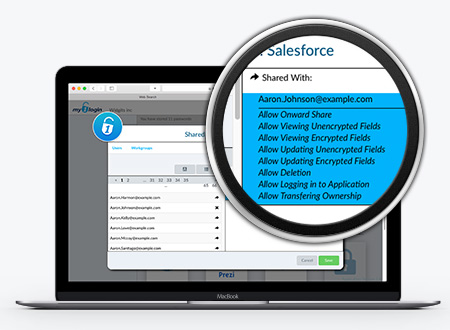 Permission-Based Sharing
Provision users for access to specific cloud, mobile and legacy desktop apps
Enforce password policies on a per-application basis
Enforce company-wide user access policies
IP Allow & Deny List
App Inclusion & Exclusion List - receive alerts when users access new web apps
Apply multi-factor authentication on a per user and per app basis
Enable sharing on an admin to user and user to user (where permitted) basis.
Automatic Secure Password Generation
My1Login can automatically generate long, strong, high-entropy passwords to ensure privileged accounts are securely protected. Passwords can be generated whenever an end-user visits a password change page on a web or desktop application. Additionally, My1Login can also pro-actively generate new strong passwords to adhere to password change timescale in line with the password policy.

SSO Without Revealing Credentials
My1Login can automatically log users into applications that use credential-based authentication. With this automatic logging in, users do not even need to know the passwords that are being used to access the privileged accounts. As users don't need to remember or type these passwords, they can be made long and strong, improving corporate security.

Secure and Encrypted Storage of Your Privileged Data
Multi-Perimeter Security
256-bit AES client-side encryption
2048-bit RSA client-side encryption
Multi-Factor authentication
Biometrics integration.

Dedicated UK Support Team
UK Helpdesk 8am – 11pm
Email support with 1 hour response during normal working hours
Additional out of hours support available on request
Highly resilient architecture 99.9% availability

Canned and Custom Reports
Canned and custom reporting is available to assist with compliance, audits and software asset management.
An audit trail of access to internally and externally hosted applications, enables central visibility of who has access to what systems and when.
Audited Access
Mitigate the risk of a data breach with strictly-governed access to privileged accounts. Stay in control of high-value accounts with request and approval workflows, time-bound access and audited session monitoring.
Restrict and approve access to accounts based on user, group, device and network. Easily demonstrate compliance and ensure third-party suppliers have strictly-controlled access to corporate applications.

Password Policy Enforcement
The average cost of data breach for a UK company being £3.6 million, with 65% of data breach attacks are caused by weak passwords, practices and phishing.
My1Login enables you to ensure that passwords protecting privileged accounts adhere to your corporate password policy. The use of long, strong, high-entropy passwords for all accounts mitigates the risk of suffering a data breach.