User Provisioning
My1Login provides full lifecycle provisioning and de-provisioning of user access to applications.
Full Account Lifecycle Management

Policy-based Enrolment

Rapidly Onboard New Employees

Automated De-Provisioning

Just-In-Time Provisioning

Integrates With Identity Standards (e.g. SAML)
Full Account Lifecycle Management
From a new employee's first day to the day they leave, My1Login's user provisioning engine enables you to ensure that the right level of application access is given to the right people. New employees can be quickly on-boarded and access can be quickly ceased when they leave.
Policy-based Enrolment
Policy-based enrolment expedites new user on-boarding, automating the provisioning of users on target applications based on their user directory permissions. This ensures that the right people quickly have access to the right applications with the correct permissions.

Application Provisioning
My1Login enables you to use a flexible set of rules to provision and de-provision users.
Ensure the right people get access to the right applications with the right level of permissions.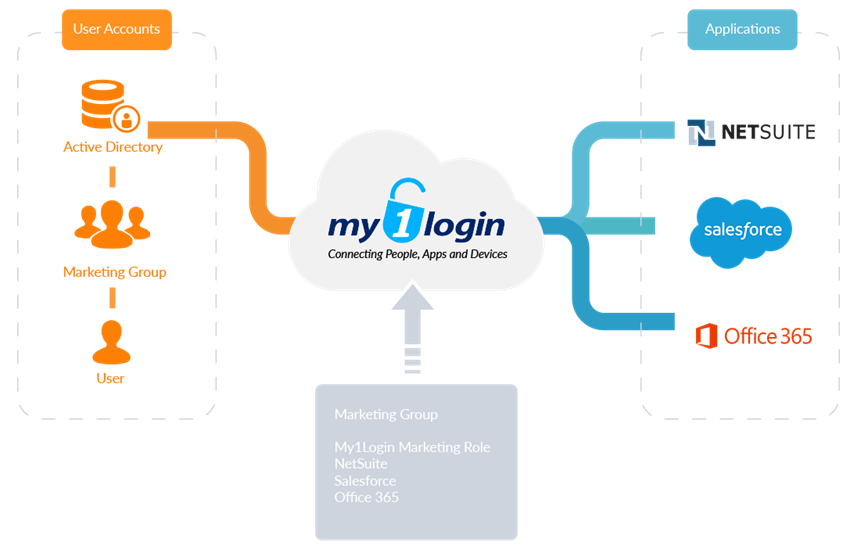 Organisational Provisioning
Organisational Provisioning enables permissions to be set at group and user level, automating the provisioning of users' access to applications. So, when a new employee joins the marketing team and is added to Active Directory, the provisioning rules for their group membership can automatically provision them with access to applications specified for that role.
As organisational provisioning is synchronised with the directory service (e.g. Active Directory), administration is vastly reduced, saving the admin team time and effort.
Just-in-Time Provisioning
With Just-in-Time provisioning the user's access to an application is provisioned at the moment the user first tries to access the target application.
Admins simply authorise a user for access to a particular target application within My1Login and when that user attempts to log into the app, their access is automatically provisioned. JiT provisioning reduces admin effort as there's no need to provision the user manually; the user simply has to be authorised to access a particular SP's target application.
Automated De-Provisioning
Automatic de-provisioning ensures ex-employees' access to corporate systems is ceased when they leave the organisation. My1Login's user synchronisation means that once an employee's access to the directory service is terminated all application access is automatically removed.
Automatic de-provisioning eliminates the security threat of ex-employees still retaining some access to sensitive business systems after they leave the organisation.